Ads related to Network Security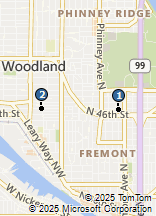 (206) 388-4633



606 N 47th St, Seattle, WA 98103
 ·


(206) 388-4633



606 Nw 47th St, Seattle, WA 98107
 ·

More listings
Network security consists of the provisions and policies adopted by a network administrator to prevent and monitor unauthorized access, misuse, modification, or ...

A leader in cybersecurity, the CERT Program develops security solutions to relevant network, computer, and internet security problems and contributes to national ...

Network security articles for Windows Server 2003, 2008 and Vista.

Computer security training, certification and free resources. We specialize in computer/network security, digital forensics, application security and IT audit.

SecTools.Org: Top 125 Network Security Tools. For more than a decade, the Nmap Project has been cataloguing the network security community's favorite tools.

Computer security (Also known as cybersecurity or IT Security) is information security as applied to computers and networks. The field covers all the processes and ...

Untangle, a network software and appliance company, provides the most complete multi-function firewall and Internet management application suite available today.

GFI offers award-winning IT software and hosted services for network and web security, email security and web monitoring for small to medium sized businesses.

Help Net Security is a security portal offering various information on security issues - news, vulnerabilities, press releases, software, viruses and a popular weekly ...

Entrust provides digital certificates, PKI security, and encryption software for enterprises and governments for more than 5,000 organizations worldwide.
Ads related to Network Security
www.ThreatTrackSecurity.com

Comprehensive Security Tools.

www.WGU.edu

Bachelor's & Master's Programs with Low Tuition. Accredited - Apply!